Here are some more action poses of Hot Toys MMS113 1/6 scale Blade collectible figure, but this time with his signature black overcoat which has scarlet red inner lining
And here he is with the foldable glaives, all ready to make his point and bring it across to any vampire who has doubts about his existence
Close-ups of Blade with his foldable glaives, also called Blade's Bloodbath Shredder Glaive. In the movie, Blade's glaives are centrally spring loaded. The mechanism that keeps the blades secure in both the open and closed position requires a hub mounted spring in order to keep the blades in whatever position they are locked in. These 1/6 scale versions are not. Other than that, they are still very detailed and well produced.
Blade's 1/6 sword in sheath attached onto his vest via a hook on the sheath. It protrudes out from his overcoat through a triangular hole cut into it.
Blade with his extendable hand blades. All for ridding the world of vampires and blood suckers. The hand blades retract back into their housings - pretty cool.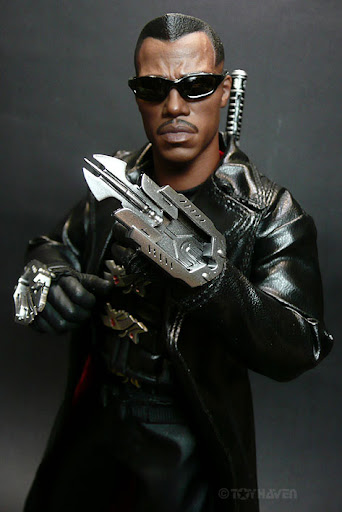 And finally, Hot Toys Blade with his sword - Sword of the DayWalker (Blade is the half man, half immortal vampire killer hunter and his sword brings instant judgement)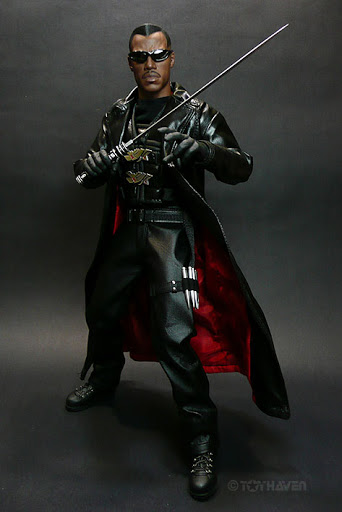 Wesley Snipes has been training in martial arts since age twelve, earning a high ranking 5th dan black belt in Shotokan Karate. He has also trained as a student of Capoeira under Mestre Jelon Vieira and in a number of other disciplines including various styles of kung fu and Jiu Jitsu. As a martial artist, Wesley Snipes as Blade certainly was very convincing and the fight scenes were just cool ;p
And then there's the UV bomb
And more pictures taken of the excellent Blade figure by Hot Toys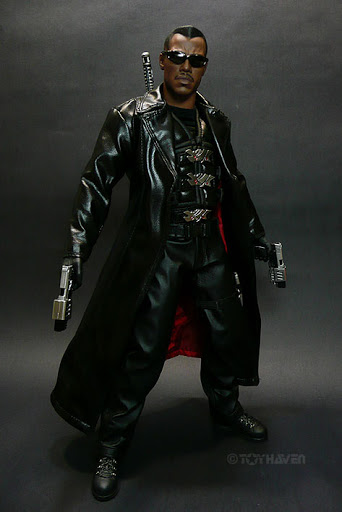 This Hot Toys 1/6 scale MMS collectible Wesley Snipes as Blade "DayWalker" action figure from the "Blade II" movie really surprised me in more ways than one, from the excellent realistic life-like head sculpt to the movie-accurate outfits (costume) to the generous amount of weapons and accessories. This figure has a very HIGH fun factor for me and IMHO ranks higher than the Hot Toys Hugh Jackman Wolverine figure (my reviews
HERE
). Once again, TOP MARKS to Hot Toys for giving us 1/6 collectors what we want and MORE.
Posted earlier:
Hot Toys MMS113 1/6
Blade Collectible Figure REVIEW I
and
REVIEW II
- Blade wearing the short padded bomber jacket