Just got my Hot Toys 1/6 12-inch Collector's Edition MMS 95 (Movie Masterpiece Series) Terminator Salvation John Connor figure and it's really GOOD! It comes in the most unique packaging ever. Hot Toys has given a new twist to the use of the styrofoam box packaging used to house figures in the past by spraying it entirely black and cutting into it to give it a most unique look. The slipcase cover which usually accompanies the box is also given a different treatment to showcase the unique packaging design.
"Only one man saw Judgment Day coming, one man, whose destiny has always been intertwined with the fate of human existence: John Connor (Christian Bale). Connor must decide whether Marcus can be trusted. But as Skynet adapts new strategies to end the Resistance forever, Connor and Marcus must find common ground to take a stand against the onslaught - to infiltrate Skynet and meet the enemy head-on."
Hot Toys John Connor (Christian Bale) 1/6 scale Collectible Figure in its tray
John Connor's weapons and accessories. No extra hands included - I guess they are not needed.
Terminator Salvation John Connor's main weapon is the M4A1 Carbine with an M26 Modular Accessory Shotgun System attachment OR M4A1 with tactical red dot sight and under barrel XM-26 LSS (Lightweight Shotgun System) - Hot Toys is still outstanding in the 1/6 scale weapons department and this is a beauty! Besides removable magazines, the shotgun also has a spring loaded charging handle and the detailing is superb!
John Connor (Christian Bale) also has the Heckler & Koch Mk 23 Mod 0 pistol as his sidearm throughout the movie. Unfortunately, the pistol included is actually a SIG P250, which is vastly different from what is used in the film.
This 1/6 SIG P250 pistol comes with spring loaded slide which when pulled back automatically slides forward. Comes with three 12-round magazines. Connor also has the Line launcher.
Hot Toys 1/6 12-inch Collector's Edition Movie Masterpiece Terminator Salvation John Connor figure is also armed with a tactical fixed blade with wrist band sheath, four blocks of plastic explosives (demolition block composition explosive), Radio and Headset.
And here's the man himself, John Connor (Christian Bale) wearing his leather jacket, Tiger stripes pants, Tactical full body harness, Drop leg panel, Armband, Patch and Assault boots.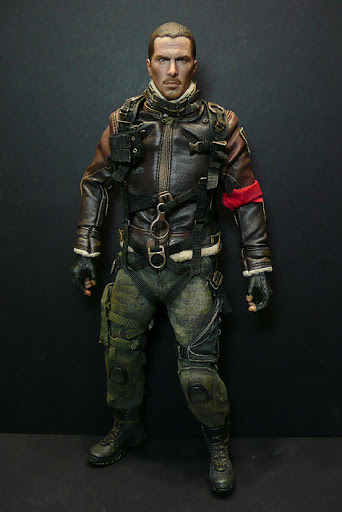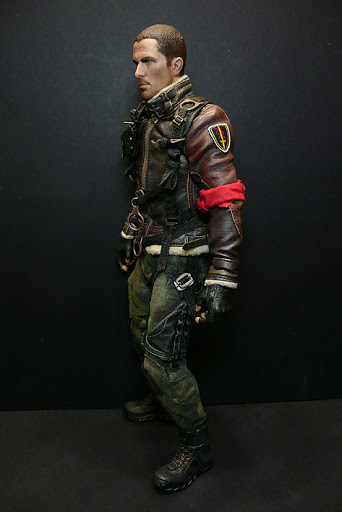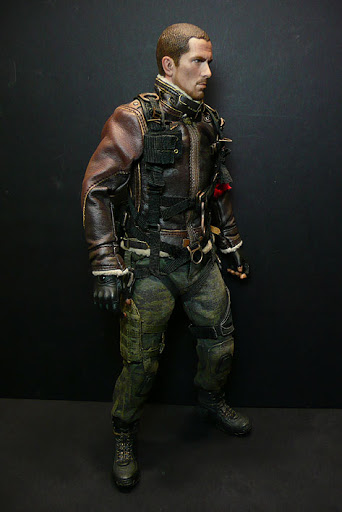 The head sculpt is superb. Apparently the first head sculpt that was released much earlier in Hong Kong was recalled because of the bad quality and hence the delay in this issue. Well, they certainly delivered again!
Hot Toys John Connor brown leather jacket is also superb! It looks very much like the High Altitude Cold Weather B-3 sheepskin leather jacket worn by the USAAF B-17 Waist Gunners of WWII (see my post
HERE
)
His quite well worn tiger stripes pants (the tigerstripe camouflage pattern was first developed for jungle warfare during the Vietnam War - see post
HERE
for Soldier Story US MACV-SOG wearing the BDUs)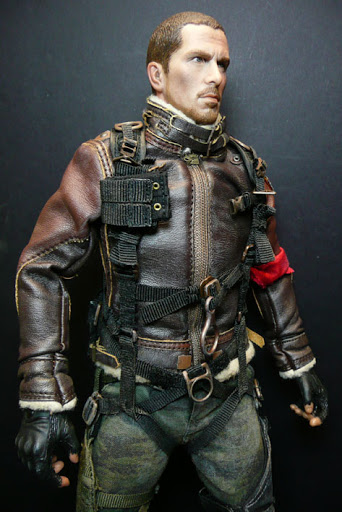 I'll post pictures of Hot Toys 1/6 John Connor with all his gear and weapons next - see post
HERE
.