Here's a second look at Hot Toys Movie Masterpiece Series MMS118 "Inglourious Basterds" 1/6th scale Lt. Aldo Raine Collectible Figure or 12-inch Brad Pitt in full resistance fighter gear as he appeared in the 2009 film "Inglourious Basterds". See my
previous post HERE
for the box, packaging and amazing details of the 1/6 scale accessories. This is the first-licensed collectible figure of Brad Pitt which fully realizes his likeness in the movie.
The 1/6th scale Lt. Aldo Raine features a newly sculpted head with movie accurate details of Brad Pitt as "Aldo the Apache" (each piece of head sculpt is specially hand-painted), TrueType body (approximately 30 cm tall) with 34 points of articulations, three pairs of interchangeable palms (one pair of relaxed palms, one pair for holding the various firearms, one pair for holding his knife)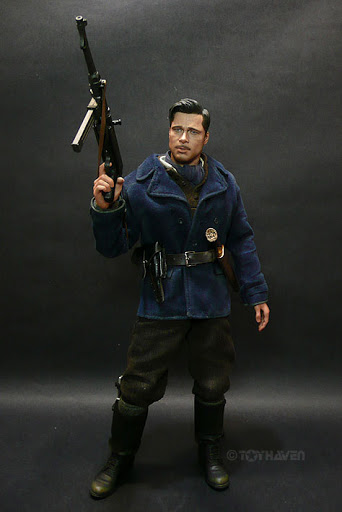 HT Aldo is dressed in a jacket with worn-out edges, brown sweater, scarf, inner shirt, corduroy trousers, leather-like belt with leather gun holster for the Walther P38 pistol, classic American Bowie knife in hard leather sheath, German WWII water bottle and leather-like long boots. Here he is brandishing the German MP40 submachine gun (Maschinen Pistole 40) with removable magazine, folding stock and working spring-loaded bolt
Note the Schutzstaffel (SS) Dagger with sheath tucked into his boots
Note the nice STAR carving on the handle end of his Bowie knife
His Nazi scalping bowie knife in leather sheath by his side
"We're gonna be dropped into France, dressed as civilians. And once we're in enemy territory, as a bushwhackin' guerrilla army, we're gonna be doin' one thing and one thing only... killin' Nazis."
Here's Hot Toys Lt. Aldo Raine (Brad Pitt) with cap, sling bag and M1 Garand rifle
"Now, I'm the direct descendant of the mountain man Jim Bridger. That means I got a little Injun in me. And our battle plan will be that of an Apache resistance. We will be cruel to the Germans, and through our cruelty they will know who we are. And they will find the evidence of our cruelty in the disemboweled, dismembered and disfigured bodies of their brothers we leave behind us."
Check out the nicely detailed boots worn by Hot Toys Aldo Raine
And here's another look at the German water bottle (the details of which were covered in the
last post
) and bag
The words "Inglourious Basterds" are
'carved'
into the butt of the M1 Garand Rifle. These can be seen more clearly in the
previous post
And now for Aldo's favorite weapon of all - his Bowie knife, which is the reason why he is fondly known as "Aldo the Apache"
"Each and every man under my command owes me one hundred Nazi scalps. And I want my scalps. And all y'all will git me one hundred Nazi scalps, taken from the heads of one hundred dead Nazis. Or you will die tryin'."
Lt. Aldo Raine [Aldo shoots Hans' driver Hermann, and gives Utivich a knife]: Scalp Hermann.
Col. Hans Landa: Are you mad? What have you done? I made a deal with your general for that man's life!
Lt. Aldo Raine: Yeah, they made that deal, but they don't give a fuck about him. They need you.
Col. Hans Landa: You'll be shot for this!
Lt. Aldo Raine: Nah, I don't think so. More like chewed out. I've been chewed out before.
"I'm gonna give you a little somethin' you can't take off."
Raine proceeds to carve a swastika into his forehead with his Bowie knife.
"You know somethin', Donowitz? I think this might just be my masterpiece."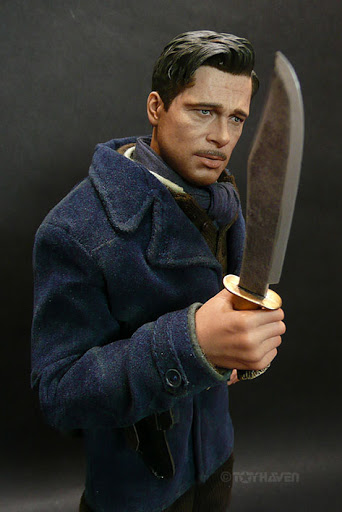 The name of Brad Pitt's character Aldo Raine in Quentin Tarantino's movie Inglourious Basterds is a tribute to Aldo Ray (September 25, 1926 – March 27, 1991). Ray's husky frame, thick neck and raspy voice made him perfect for playing tough sexy roles. Aldo was most often type-cast as the tough guy, capitalizing on his husky good looks and gravelly voice.
Related post: Hot Toys "Inglourious Basterds" Nazi Waffen-SS
Colonel Hans Landa REVIEW


VIEW Pictures
: of Hot Toys Lt. Aldo Raine and Col. Hans Landa side by side