Master Sergeant Gary Ivan Gordon (August 30, 1960 – October 3, 1993) is a posthumous recipient of the Medal of Honor. At the time of his death, he was a Non-Commissioned Officer (NCO) in the United States Army's premiere special operations unit, the 1st Special Forces Operational Detachment-Delta (1SFOD-D), or "Delta Force" during
Operation Gothic Serpent
, a joint-force assault mission to apprehend key advisers to Somali warlord Mohamed Farrah Aidid. Together with Sgt. 1st Class Randy Shughart, he was awarded the Medal of Honor for actions he performed during the Battle of Mogadishu in October 1993. [source:
wiki
]
Author Mark Bowden, wrote the book "Black Hawk Down: A Story of Modern War", the best-selling book detailing the events of October 1993. In the 2001 film "Black Hawk Down" by Ridley Scott, Gordon was portrayed by Danish actor Nikolaj Coster Waldau. The account would generally follow that of the book.
Dragon released this Commemorative Edition 1/6 scale 12" Gary Gordon, Sniper Team Leader Delta Force - Task Force Ranger in 2003 as a 10th Anniversary figure of Task Force Ranger's engagement at the Battle of Mogadishu, Somalia from 3rd to 4th October 1993.
Dragon 1/6 12" Master Sergeant Gary Gordon, US Army Delta Force Sniper Team Leader, Task Force Ranger, Mogadishu, Somalia 3-4 Oct 1993, came with Pro-Tech Helmet, Combat Goggles, Walkie Talkie radio with throat mic plus ear piece and radio pouch, tan T-Shirt, Desert DBU Jacket with US Flag Patch, Watch, Body Armor, BHI style chest harness with two spare M16 magazines, Web Belt with LC-2 "Y" suspenders with metal hooks and functional pouches (compass pouch, M16 Ammo Pouches and two canteens i.e. Water Bottle with Pouch), M67 fragmentation Grenades, M9 / 92F 9mm .45 Pistol with Eagle Style Drop-Down Holster, M4 assault rifle with Sight Scope and Silencer / flash suppressor (with Camouflage Paint), US M1967 Buttpack, Desert DBU Trousers, KneePads, Combat boots. Also has the Congressional Medal of Honor and United States Interment Flag.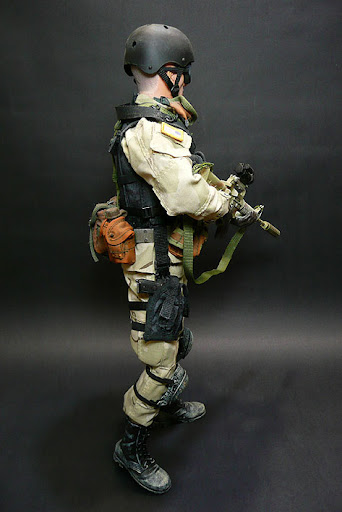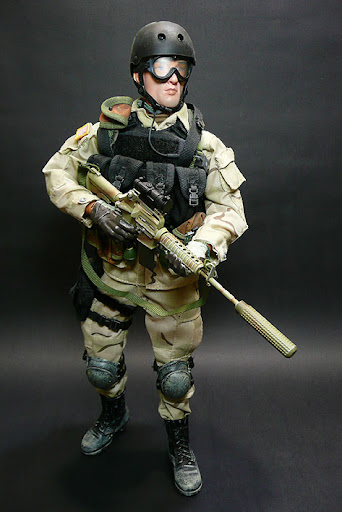 M4 assault rifle with M68 Aimpoint Comp-M red dot sight and suppressor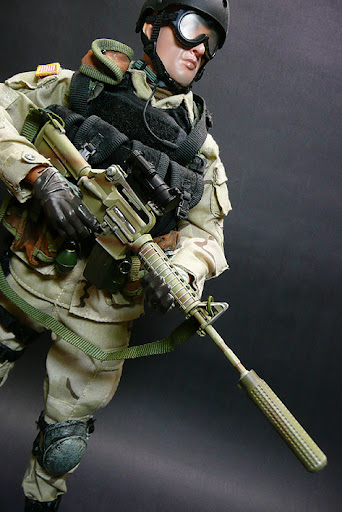 US Internment Flag and Medal of Honor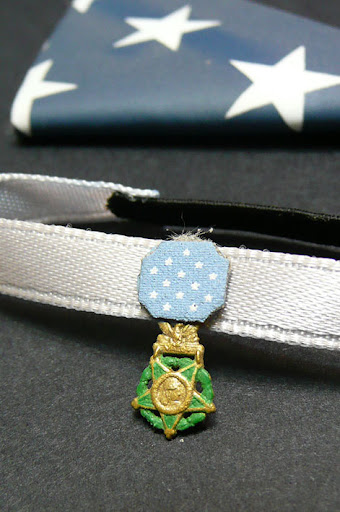 In its hey day, 12" figures were more affordable with Dragon providing the bulk of it but alas, those days are long gone and now each figure costs at least twice what they used to be, with DiD and Soldier Story leading the way. Hot Toys seems to have dropped out to concentrate on their Movie Masterpieces.
I had covered in greater detail the "Battle of Mogadishu (1993)" as depicted in the film "Black Hawk Down (2001)" in an earlier post
HERE
There's also a post on the 1/6 AH-6 Little Bird attack helicopter
HERE
NEXT
: Dragon 10th Anniversary Commemorative Edition 1/6 scale 12-inch "Danny McKnight" military figure