Continued from
previous post
When covering 1/6 movie figures, especially from the RoboCop movies, one can't help but think of the Enforcement Droid 209 (ED-209) and Hot Toys definitely gave collectors what they wanted when they released the 1/6 scale MMS ED-209 robot figure in 2006. This was the first BIG project they took on and they certainly rose to the challenge. Check out the full review
HERE
.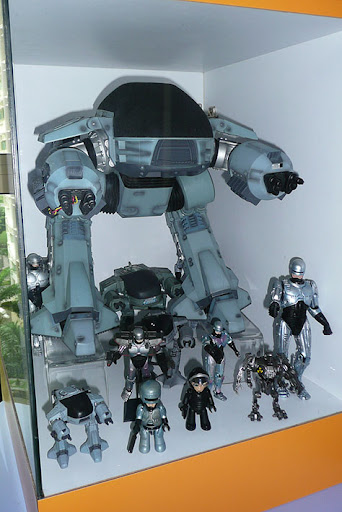 Hot Toys followed up with the 1/6 scale Power Loader from the movie "ALIENS (1986)". After the movie's premiere, the Caterpillar construction equipment company reportedly received inquiries from people interested in buying the power loader that Ripley uses to fight the Alien Queen, who were unaware that it was fictional and didn't exist outside of the movie. More pictures
HERE
.
And here are some Hellboy figures, 1/6 and smaller. I enjoyed the Hellboy comics by Mike Mignola because of his art style. Mezco Toyz produced the most accurate interpretation of the Hellboy characters from the comics / graphic novels as drawn by Mike Mignola.
Alien by Mignola and Alien (Xenomorph) from the disturbing art of H.R. Giger (I don't think he sleeps very well at all)
Kane gets it in the face by a facehugger (Full review of him
HERE
)
United States Colonial Marines USCM Corporal Dwayne Hicks (Michael Biehn) by Hot Toys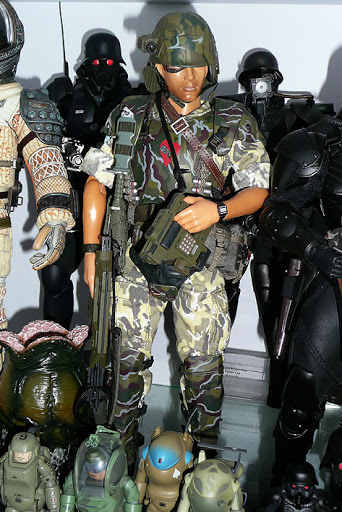 Private First Class Vasquez (Jenette Goldstein) with her M56 Smart Gun used in the movie "Aliens (1986)". It was based on a German MG-42 machine gun, using a heavily modified steadicam harness. The handles were taken from a Honda motorcycle. The clutch cable was used to fire the gun from the rear handle.
And let's not forget the Predator Alien from "The Predator" movie which came out in 1997