In the winter of 1942, the German and Russian Armies meet in the Battle for Stalingrad, one of the most vicious engagements of the Second World War.
In "Enemy of the Gates (2001)" depicting the BIG battle, Vassili Zaitsev (played by Jude Law), a poorly educated peasant from the Urals who volunteered for the Red Army, manages to survive a suicidal charge without a weapon against the German front lines and the NKVD machine gunners shooting survivors who tried to retreat. Acquiring a rifle, Zaitsev — an expert marksman due to hunting for almost his entire life — manages to kill five Germans with the only five bullets he has.
To quote from Jar Jar Binks: "
Mesa
day startin pretty okee-day with a brisky morning munchy, then BOOM! Gettin very scared and grabbin that Jedi and POW!
Mesa
here!
Mesa
gettin' very very scared!"
In 2001, Dragon released this twin pack of World War II Action Figures, limited to 4,000 pieces - DUEL AT STALINGRAD Soviet Sniper "Misha" and German Jäger "Major Kater", both individually numbered on the neck.
This was obviously meant to tie-in with the movie "Enemy of the Gates" although it wasn't official. Dragon would go on to release movie-licensed figures later but for this release, the Soviet Sniper was called "Misha" and the German Jäger, "Major Kater" instead of Vasily and König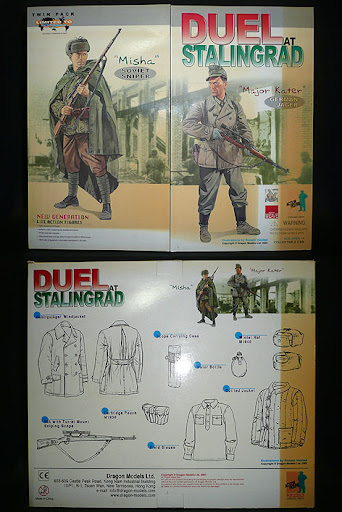 Dragon 1:6 Soviet Sniper "Misha" came equipped with the PPsh-41 submachine gun and two 71-round drum magazines and the carrier for the drum magazine. He also has M1940
shapka-ushanka
cap (winter hat) in fleece-trimmed cloth.