"Public Enemies" is a 2009 American crime film co-written and directed by Michael Mann. Set during the Great Depression, it focuses on the true story of Bureau of Investigation agent Melvin Purvis's (Christian Bale) attempts to stop criminals John Dillinger (Johnny Depp), Baby Face Nelson (Stephen Graham) and Pretty Boy Floyd (Channing Tatum).
And from Heroic comes this 1/6 scale 12-inch tall Bank Robber figure that is loosely based on Johnny Depp as John Dillinger. The exploits of Dillinger and his gang, along with those of other criminals of the Great Depression such as Bonnie and Clyde and Ma Barker, dominated the attention of the American press and its readers during what is sometimes referred to as the public enemy era (1931–1935), a period which led to the development of the modern, more sophisticated Federal Bureau of Investigation.
Heroic Bank Robber comes dressed in 1/6 scale attire including basic white, button-down long-sleeve shirt, tie, suspenders, pants with chain and dress shoes.
John Dillinger: "We're having too good a time today. We ain't thinking about tomorrow."
Close-ups of the Heroic Bank Robber head sculpt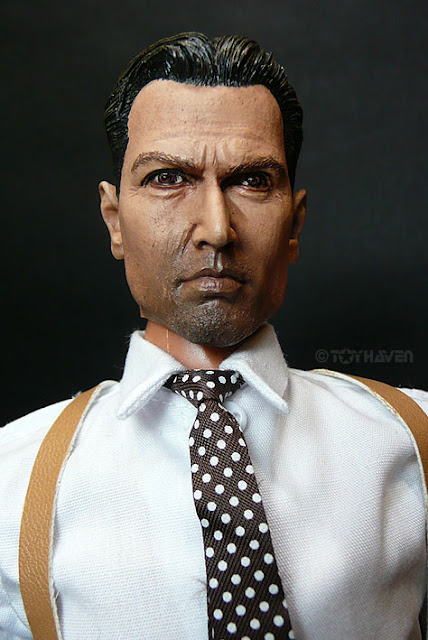 He also has a rather nice black leather-looking vest worn over his shirt.
Check out those really fancy shoes. These bank robbers dress really well.
Last but not least, there's the plaid square pattern long, black and double-breasted overcoat. There's also the hat but let's just put that away and not go there. The less said, the better.
In "Public Enemies", John Dillinger (Johnny Depp) carries two Colt M1911A1 pistols kept in a leather cross-draw shoulder holster rig throughout the film, rarely firing them. Heroic's Bank Robber has only one Colt M1911A1 pistol and a standard shoulder holster meant for it.
Here's Heroic 1/6 scale Bank Robber all dressed to rob a bank
Besides being very well-dressed bank robbers, they were also very well armed. Depp as Dillinger has a Colt 1921 Thompson Submachine Gun.
John Dillinger: "You wanna know if we're armed? We're armed."
Colt M1921AC Thompson Submachine Gun ("Tommy Gun") with 30-round magazine. John Dillinger (Johnny Depp) and some of his gangsters, notably "Baby Face" Nelson (Stephen Graham), and FBI agent Melvin Purvis (Christian Bale) use Thompson Submachine Guns throughout the film.
John Dillinger: "The only thing that's important is where somebody's going."
Billie Frechette: "Where are you going?"
John Dillinger: "Anywhere I want."