Broads. Booze. Bullets. All part of the world we've come to know as Sin City. "Sin City" (full title: "Frank Miller's Sin City") is a 2005 American crime thriller film written, produced and directed by Frank Miller and Robert Rodriguez. It is a film noir based on Miller's graphic novel series of the same name.
The film is primarily based on three of Miller's works: one of them is "That Yellow Bastard", which follows an ageing police officer (played by Bruce Willis) who goes all out to protect a young woman from a grotesquely disfigured serial killer.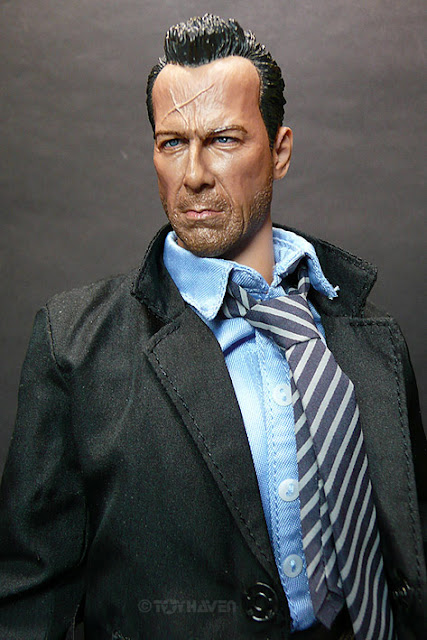 From
V
irtual
T
oy
S
(VTS) comes this Stone Cold Killers boxed outfit set similar to those previously released by Loading Toys. The box isn't very big because there is NO 1/6 figure inside.
VTS Stone Cold Killer 1/6 scale collectible set comes with the following accessories: a Killer head sculpt - is that a pun intended? (including a connecting neck post that will fit the HT, TTL etc. 1/6 figure body), Black dust coat, Blue shirt, Tartan plaid tie, Detective underarm holster, Black trousers, Leather belt, Black leather shoes, a 1/6 scale a Smith & Wesson Model 29 .44 magnum and a cigar.
Everything 1/6 except the head sculpt by VTS laid out for all to see
Nice details on the revolver with removable cylinder (fully loaded with six bullets) and fine stitching on the leather holster as well
John Hartigan (Bruce Willis) is presented as a muscular and imposing man, capable of holding his own in a fight (I've plonked the Killer head on a HT True Type body). He also suffers from angina, which consistently affects his work, despite his attempts to ignore and fight through it. He is almost always dressed professionally, most commonly wearing an oxford shirt, tie and dress slacks, along with his signature trenchcoat.
A veteran police detective of Basin City, Hartigan is gruff, stoic and cynical.
Bruce Willis as John Hartigan, has a distinguishing cross-shaped scar on his forehead. IMHO this head sculpt by VTS is simply amazing and they managed to capture Bruce's likeness very well.
The very well produced and detailed 1/6 leather shoulder holster by VTS for Hartigan's Smith & Wesson Model 29 .44 magnum. The quality of VTS accessories are much better than Brother Production's 1:6 Hard-boiled Harry (pictures
HERE
)
Close-ups of Hartigan's 1/6 well-polished and shiny shoes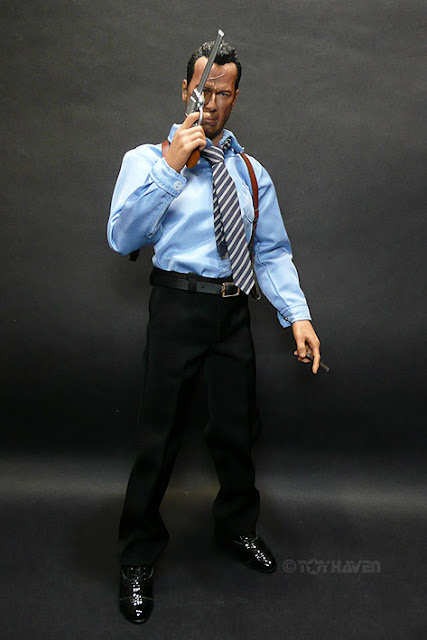 Detective John Hartigan (Bruce Willis) uses a Smith & Wesson Model 29 .44 magnum to rescue the young Nancy Callahan (Makenzie Vega), and also uses it to blow Roark Jr. (Nick Stahl) apart. Frank Miller made Hartigan use a .44 magnum as an ode to Dirty Harry. Note how Nancy's last name is "Callahan." Despite being a lefty in real life, Bruce Willis was nice enough to fake being a righty shooter for the film to stay faithful to the comics. See pictures of Brother Production Hard-boiled Harry
HERE
.
Here's Hartigan with his signature trenchcoat. He's not complete without it :)
The VTS Bruce Willis as John Hartigan 1/6 scale head sculpt is so good that you tend to forget how big this head is (check out that HUGE forehead of his). Funny thing is, when the head is too small (like most of the HS by Soldier Story), it becomes very obvious how wrong and out of proportion the head is but with this seemingly bigger than normal head sculpt, the difference is not as telling or obvious.
This is probably one of the signature poses of John Hartigan as he appeared on the "Sin City" movie posters