continued from
previous post
...
The Special Activities Division (SAD) is a division of the United States Central Intelligence Agency's (CIA) National Clandestine Service (NCS) responsible for covert operations, black operations and other "special activities." These include covert political action and paramilitary special operations. [source:
wiki
]
Since the CIA SAD is covert and black ops, no one is going to confirm or deny if this Soldier Story 1/6 scale 12-inch CIA SAD Night Ops Ver 2.0 operator / military figure has the proper or correct getup (outfit) but who really cares ;) this figure just looks too damn COOL
Here's the Soldier Story CIA SAD Night Ops Ver 2.0 operator with full gear and kit except the black hooded jacket, extra helmet light, the eight yellow cyalume light sticks or glow sticks, extra belt and hydration drinking tube.
The Soldier Story CIA SAD Night Ops Version 2.0 operator comes dressed in black from head to toe with black helmet, shirt, armor vest, assault vest, pants and laced-up combat boots.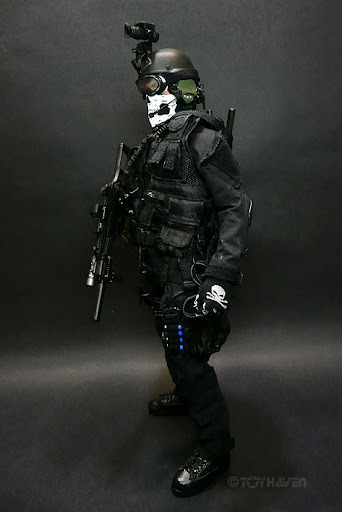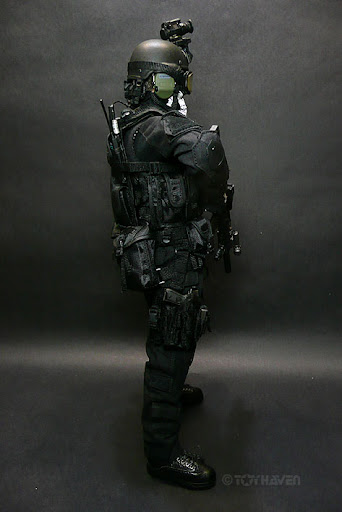 Close-up of the Soldier Story 1/6 scale MICH (Modular Integrated Communications Helmet) TC-2002 Combat Helmet with NVG mount and NVG (Night Vision Goggles), tactical goggles, SORDIN headset and skull bandanna, all beautifully executed and easy to fit on the head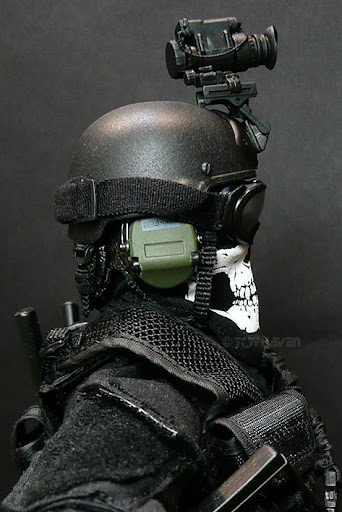 Tactical Tailor Tac-Vest 1E. The three rifle magazine pouches on each vest (in this case, located on the right) are designed with versatility in mind and each pouch can accommodate two 30 round M16 magazines, one 20 round .308 magazine, one G36 magazine or just about any other similar sized magazine. Each vest is built out of heavy-duty breathable nylon mesh.
The left pouches accommodate the pistol magazines and has a front mounted holster with an adjustable thumb break for his M9 pistol
Radio pouch for the radio attached to his belt, along with two Flexi-Cuffs (Double) BLACK
Each vest has a reinforced drag handle along with an internal hydration pack sleeve. The back of each vest has an additional hydration pack pocket (which can also be used to carry bolt cutters, or a jacket) and two multi-purpose pouches. Additional pouches are carried on his belt as well.
He also has a medical pouch, drop-down holster for his other M9 pistol (yup, he comes with not one but two M9s) with additional pistol magazine pouches for his spare magazines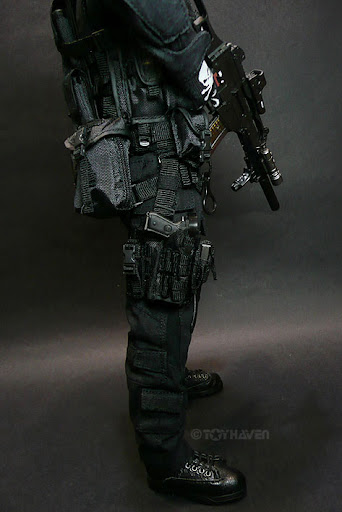 The black gloves he has are pretty bada$$ too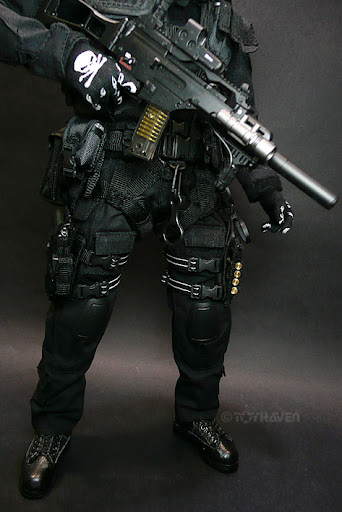 And then there's the shotgun panel for his shotgun shells as well as a multi-purpose pouch on the drop-leg platform
Another view of the extra utility pouches carried on his belt. This guy is loaded to the hilt and ready to bring down some tangos with all that he has.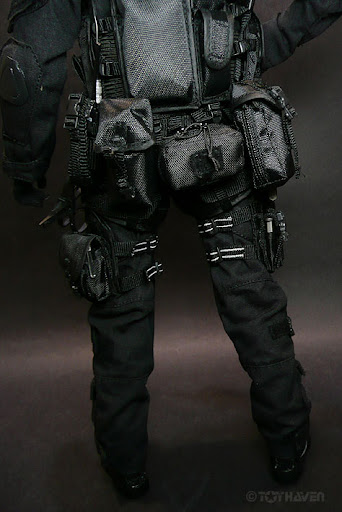 Another look at the really nice 1/6 scale Heckler & Koch (H&K) G36C Assault rifle with folding stock, removable magazine, Integrated RIS with RIS Forward Grip, silencer, EOTech Sights, tactical light attached on a bungee sling
The verdict is OUT: Soldier Story has done it again! This Soldier Story CIA SAD Night Ops Version 2.0 is as good as the FIRST (reviewed
HERE
) and will make a good companion :)
Double Trouble - Soldier Story CIA SAD Night Ops Version 1 and 2.0 together
HERE