From the movie "The Spirit (2008)" comes Hot Toys Collector's Edition MMS92 (Movie Masterpiece Series) 1/6 scale 12" Silken Floss (Scarlett Johansson) Female Action Figure. As with all Hot Toys MMS figures, this one also comes with the slipcase cover. "On Your Knees Then" akin to "Bend Over, Here It Comes" - ha! ha!
Back of Hot Toys MMS92 Silken Floss Slipcase cover showing pictures of the 1/6 scale fully poseable Silken Floss (Scarlett Johansson) action figure
Box cover - great use of the red lips color on a black and white picture
The description on the flap reads:
"Silken Floss is a very sexy woman, whose attention to detail slices through the core of every situation. Her lack of emotion makes her the perfect accomplice to Octopus. Incredibly intelligent, she always has her eyes on the prize, even when Octopus' insanity gets in the way. She's the only one who The Octopus listens to, probably because he knows that her heart is just as cold as his."
Accessories include: Syringe, Nazi Waffen-SS Schirmmutze or visor cap, M9 pistol with removable magazine and her glasses (plus an additional right hand for holding her syringe - not shown in this picture)
Hot Toys MMS92 1/6 scale SILKEN FLOSS collectible figure out of her box. She wears brown SS shirt under her Waffen-SS jacket with red armband, Sam Browne belt, jodhpurs (tight-fitting trousers that reach to the ankle and are worn primarily for horseback riding) and boots. She also wears the Iron Cross medal like a choker - interesting fashion statement.
Hot Toys Silken Floss outfit is well-tailored and fits her nicely. The knee-high riding boots are especially nice on her.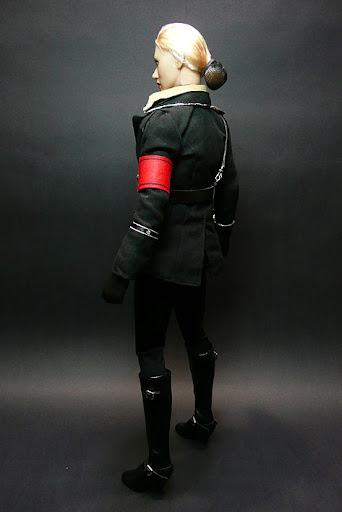 Interestingly, she only has shoulder boards on her right side of her jacket, where the strap of her Sam Browne belt goes diagonally over the right shoulder.
Close-up shots of Hot Toys MMS92 1/6 scale 12" Silken Floss (Scarlett Johansson) head sculpt with implanted or rooted hair
This is where many felt Hot Toys slackened in the quality department - the joint line is too damn obvious! Because the Silken Floss character wears her hair in a bun with netting and not let her hair fall and cover the side of her face, the joining portion of the head (due to the rooted air) becomes all the more pronounced.
Otherwise, head-on the head sculpt of Silken Floss with Scarlett Johansson likeness is still pretty good. The Waffen-SS Schirmmutze or visor cap (Officer's hat) is a little big for her, as can be expected when making hats in 1/6 scale. Some companies like Sideshow Collectibles would choose to make two head sculpts, one with hat and one without to get around the issue of realism in 1/6 scale.
The details or lack thereof of her belt buckle on her Sam Browne belt
Nice jodhpurs over her nice long legs and well-made knee-high riding boots with buckles on the sides
And here's Hot Toys 1/6 scale Silken Floss collectible figure wearing her glasses and holding her syringe in the spare right hand that's included as an accessory.
More close-up pictures of Hot Toys Silken Floss (Scarlett Johansson) femme fatale
Close-up of her 1/6 syringe
Close-up of her glasses and red hot lips
Hot Toys Silken Floss with her syringe and M9 pistol
Another view of her hair in a bun with netting, syringe and right shoulder board
Let's see how she wears her waffen-SS brown shirt and jodhpurs under her jacket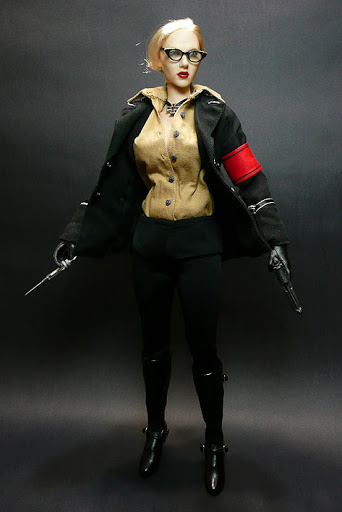 Just showing what she's famous for - her lips :)