From Soldier Story comes this Deutsches Afrika Korps (DAK) Infantryman from the Cyrenaica 1941 campaign. This in a way ends the debate about whether Soldier Story would release a 1/6 scale 12" FJ (Fallschirmjäger) figure to counter DID's release of the Ultimate Edition World War II Luftwaffe Fallschirmjäger (German Air Force Paratrooper) "Dirk Kluge" from Victory to Defeat 1942-1945 who has a good resemblance and likeness to a certain "Bond" figure (see my earlier post
HERE
).
For those not in the know, DID and Soldier Story have been going at it for a while now, with both 1/6 manufacturers releasing similar themed figure. For example, there was the tale of two doctors - DID World War II 101st Airborne (Screaming Eagles) Combat Medic and Soldier Story WWII US Army 82nd Airborne (All American) Medic - see my post
HERE
. That followed with DID 2nd Ranger Battalion Sniper (preview
HERE
) versus Soldier Story US 2nd Ranger Infantryman (pictures
HERE
).
And now this Soldier Story 1/6 scale 12" Deutsches Afrika Korps (DAK) Infantryman shows up. If you think about it, this could be a jab at DID Colonel Claus von Stauffenberg (my full review
HERE
and
HERE
). You'll see why soon enough :)
Soldier Story 1/6 scale 12" Deutsches Afrika Korps (DAK) Infantryman will come with S2 Body, desert M35 stahlhelm (helmet in Tan color with metal with leather liner), M1940 Field cap (tropical cloth hat), Goggles, K98 Rifle (wood and metal with moving parts), Canvas breech cover (dust cover for the receiver in case of sandstorms), M1940 tropical field uniform (tan tunic), knee-length M1940 first pattern tropical boot (working lace), Brown leather K98 Ammunition pouches, Desert scarf, M1924 stick grenade x 2 (wood and metal), Bayonet, Bread bag, Water bottle, Gas mask canister, Mess kit, Tropical belt and Y strap, Shovel (wood and metal) with cover, M1940 tropical greatcoat and K98 ammo clips (removable bullets)
As usual, Soldier Story (and DID) are exceptional in terms of quality and detail. They really bring the art and craftsmanship of 1/6 scaled fabric items with super accurate and realistic accessories up a few notches, no more plastic molded parts of the past.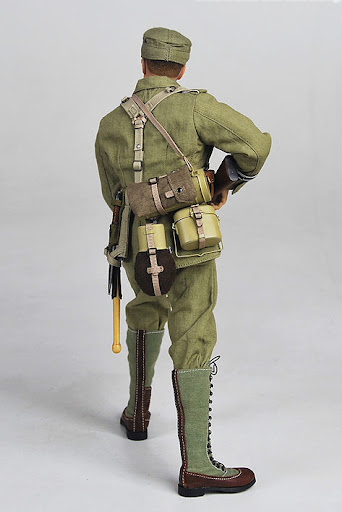 Do you see the link to DID Colonel Claus Philipp Maria Schenk Graf von Stauffenberg yet?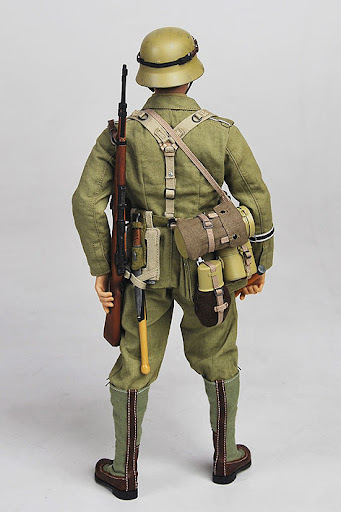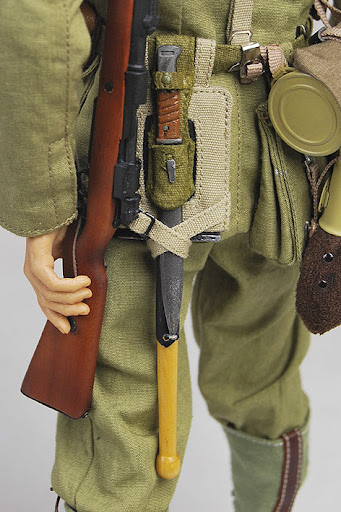 A close-up of the Deutsches Afrika Korps (DAK) Infantryman head sculpt by Soldier Story
Doesn't the head sculpt look like the actor who played Colonel Claus von Stauffenberg (15 November 1907 – 21 July 1944) from "Valkyrie (2008)" the movie? If you are thinking "Tom Cruise!" you've pretty much hit the nail on the head. So you see? Soldier Story is giving us another alternative to what DID offered. This could be Colonel Claus von Stauffenberg before the Colonel's "injury" in North Africa which saw him losing his left eye, his right hand and 2 fingers on his left hand. Except this figure is pretty much a grunt and not a German Army Officer.
Check it out - actual 1/6 buttons. They are GREAT for detail and authenticity but can be quite a nightmare to button again once they become unbuttoned. DID Colonel Claus von Stauffenberg also has 1/6 scaled buttons on his tunic / jacket.
The super detailed knee-length M1940 first pattern tropical boot with working laces
Karabiner 98 Kurz or K98 Rifle (wood and metal with moving parts) with canvas breech cover (dust cover for the receiver in case of sandstorms), bayonet with sheath and K98 ammo clips with removable metal bullets
Also comes with brown M1940 tropical greatcoat
Dragon had released quite a number of DAK figures in the early part of 2000 (see my post
HERE
) as well as BBI and Action Man but I haven't found the time to blog about any of them YET. Here are just some of them in the cabinet [ click on the picture below to get a much bigger and better view :) ] - Sideshow Indy is wearing Dragon "Jürgen", Reichsführer Grenadier (Schütze) uniform and accessories (full review
HERE
)