Continued from
previous post
Hot Toys 1/6 12-inch Collector's Edition MMS 95 (Movie Masterpiece Series) Terminator Salvation John Connor (Christian Bale) kitted out and armed with his M4A1 Carbine with an M26 Modular Accessory Shotgun System attachment OR M4A1 with tactical red dot sight and under barrel XM-26 LSS (Lightweight Shotgun System) with six extra M4 magazines, SIG P250 pistol (it's supposed to be a Heckler & Koch Mk 23 Mod 0 pistol which was John Connor's sidearm throughout the movie) plus two extra clips or magazines, Line launcher, tactical fixed blade with wrist band sheath, four blocks of plastic explosives (C4 or demolition block composition explosive), Radio and Headset.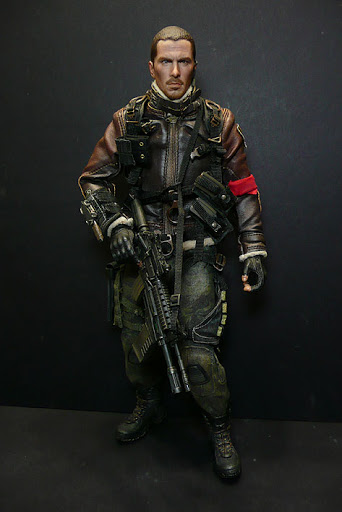 John Connor (Christian Bale) keeps his spare 12-round pistol magazines in his double magazine pouch on his right chest.
You gotta love the Christian Bale as John Connor head sculpt by Hot Toys. The resemblance is amazing and the skin texture and paintwork is absolutely stunning. The headset to his radio fits snugly in his left ear.
He keeps two of his spare M4 30-round magazines in the m4 ammo pouches. These come loose and you basically attach them to his very well produced harness.
The four C4 demolition blocks are kept stored by his left thigh. Note the knee pads incorporated into his very well worn tiger stripe pattern pants.
Also check out the well-produced 1/6 boots Hot Toys MMS Terminator Salvation John Connor wears
His radio sits nicely in the radio pouch carried on his back...
... along with the remaining four M4 30-round magazines. His SIG P250 pistol is kept in his hard shell holster attached to the drop-leg panel on his right thigh.
Another close look at the very detailed and well-produced M4A1 assault rifle with tactical red dot sight and under barrel XM-26 LSS (Lightweight Shotgun System)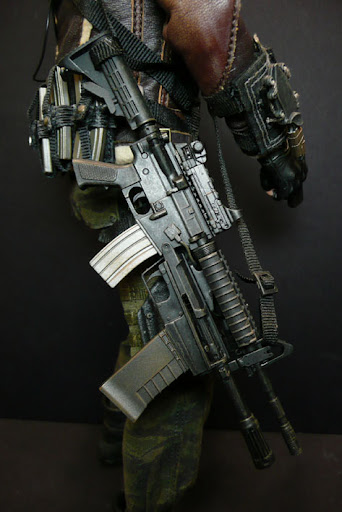 Tactical fixed blade with wrist band sheath worn on his right wrist
Hot Toys 1/6 12-inch Collector's Edition Terminator Salvation John Connor (Christian Bale) with SIG P250 pistol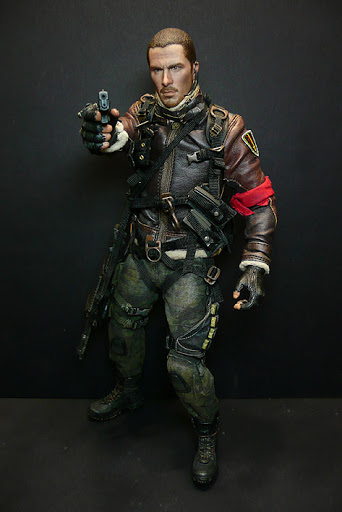 The man is INTENSE!! Not hard to imagine Christian Bale hurling verbal abuse at cinematographer Shane Hurlbut during the filming on the set of the movie. He used the F-word 36 times in four minutes. See my post
HERE
And finally, with his Line launcher
Closed
Open