Coming soon from Playhouse - this USMC Regimental Combat Team (RCT) from 6th Marine Regiment in Operation Iraqi Freedom. This is one seriously pissed off looking Marine. What we have here is a fully kitted, basic load-out Infantry Marine! Down to the CAT tourniquets, which are given to everyone now, ear plug case AND the new PEQ-15 and RIS leaf sight for the M4!
USMC REGIMENTAL COMBAT TEAM (RCT) with the following Parts List:
SPARTAN II ASSAULT VEST w/ PLATES(CB), SAPI SIDE PLATE CARRIER(CB) x 2, REMOVABLE SPLIT YOKE/COLLAR SYSTEM(CB), REMOVABLE THROAT PROTECTION(CB), REMOVABLE GROIN PROTECTION(CB), USMC X-STATIC GLOVES (CT), CWU-27/P FLIGHT SUIT(TAN), NECK GAITER(CT), USMC TEE(CT), M4 TAG MOLLE TRIPLE MAG POUCH(CT), DOUBLE PISTOL MAG POUCH - TALONFLEX (CT), 40MM GRENADE POUCH (HOLDS 3)(CT) x 2, POP FLARE POUCH(CT), M4 PISTOL POUCH (CT), LOW DRAG SUSPENDERS(OD), RIGGER BELT, BELT PAD(OD), AN/PRC-148 (MBITR) ISSUED RADIO HOLSTER, MODULAR SCISSOR POUCH(CT), NIGHT VISION GOGGLE POUCH(OD), MULTI-TOOL SHEATH, COMBINATION DUMP MAG POUCH(CT), NARP MEDIC POUCH (BLK), ILBE ASSAULT PACK W/ TUBE (WOODLAND MARPAT), SCHIM HELMET IDENTIFICATION MARKER, NAME TAPE " MCKNIGHT ", GADSDEN PATCH and U.S. FLAG
HEADSCULPT " MCKNIGHT ", S.1 BODY W/ 1-PAIR BENDABLE HANDS, USMC HELMET W/ HELMET COVER (DESERT MARPAT), AN/PVS-14 NIGHT VISION MONOCULAR, PASGT NVG HELMET MOUNT, FLIP-UP NVG MOUNT, AN/PRC-148 (MBITR) RADIO W/ BALANCED SPEAKER MICROPHONE, USMC M10 BAYONET W/ KNIFE SHEATH, SG-1 GOGGLES (RED GLASSES), COMBAT APPLICATION TOURNIQUET (C-A-T), EAR PLUGS STORAGE CASE, MULTI-TOOL (SILVER), MEDIC SCISSORS, M18 SMOKE GRENADE x 2 (RED & YELLOW), M67 FRAGMENTATION GRENADE x 2, M127 PARACHUTE SIGNAL FLARE, M-381 40MM GRENADE x 6, LIGHTSTICK x 3, LEATHER-MADE LACE-UP DESERT BOOTS (TAN), M9 PISTOL W/ SDS PISTOL LANYARD, PISTOL MAGAZINE x 3, M4/M16 MAGAZINE x 6, GRIMLOC LOCKING MOLLE CARABINER, D LOCKING CARABINER, RUBBER BANDS x 2, M4A1 SOPMOD RIFLE W/ M203 40MM GRENADE LAUNCHER Rifle including MULTI-PURPOSE AIMING REFLEX SIGHT (MARS), AN/PEQ-15 LASER POINTER (ATPIAL) (CT), GRENADE LAUNCHER FOREWARD HANDGRIP, WEAPON LIGHT W/ TIPOFF BLUE FILTER, COLLAPSIBLE STOCK (G.I. TYPE), CQB SLING ADAPTER PLATE, USMC BUNCH SLING (CT), M4/M16 MAGAZINE, M203 LEAF SIGHT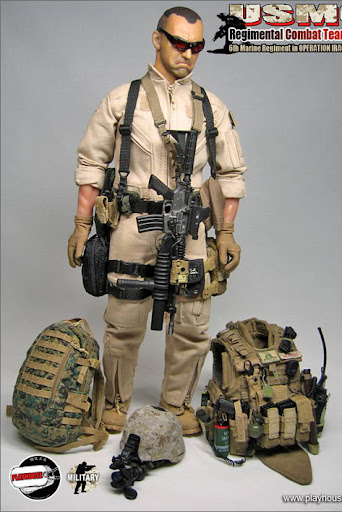 It's supposed to be actor Tom Sizemore as Danny McKnight in "
Black Hawk Down (2001)
" but McKnight wasn't a Marine, he was an Army Ranger - Hoo-Ah!
Other observations: He's got the perfect Judge Dredd expression OR Frank Castle (Marvel's Punisher). Robert DeNiro even - "You talkin' to me?"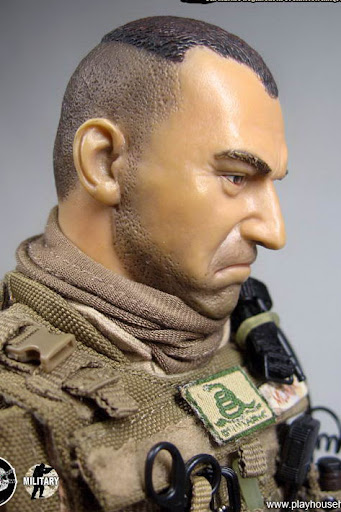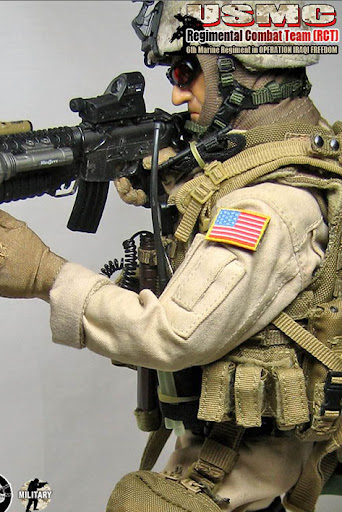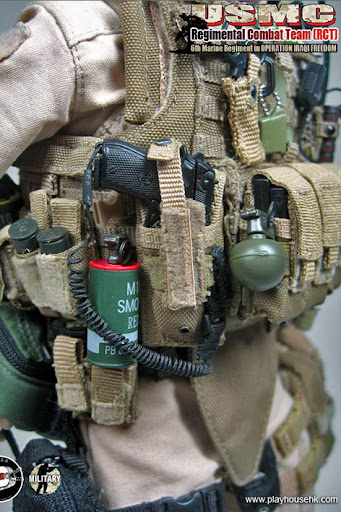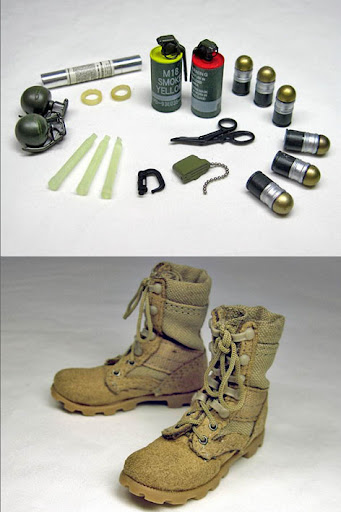 Released Date: September 2009 - any day now...