This is Hot Toys 1/6 scale 12" USMC Third Marine Battalion in Fallujah 2004 - M249 SAW GUNNER military figure (which was released in 2007) and came with BDU - Battle Dress Uniform (MARPAT - MARine PATtern, MCCUU - Marine Corps Combat Utility Uniform, DESERT), Interceptor Body Armor, M249 Magazine Pouches, IFAK (Infantry First Aid Kit) Pouch, Leg Rig Panel, Gasmask / Dump Pouch, Belt and Tactical Boots.
Accessories include PASGT Helmet with Cover, PVS-14 NVG Mount, Goggles with Cover, Sunglasses, LITE Headset, Personal Role Radio (PRR) with pouch, S.O.L.A.G. Gloves, "Ninja Turtles" kneepads (Motocross/BMX kneepads), Ballistic Hard Plates, Surefire Flashlight with Holder, Water Bottle with Cover, Hydration System, Plasti-cuffs, Ball Pen, Whistle, Watch
Weapons comprise Multi-Purpose Bayonet, Para SAW M249 with M145 Scope and M1911A1 with drop-down Holster.
Basic Figure out of the box. The battledress in digital camouflage patterns was first adopted by the Canadian Forces (CADPAT), followed by the United States Marine Corps (MARPAT MCCUU). The USMC were already wearing the digital camouflage uniforms in 2002.
The head sculpt looks a lot like Christian Bale (he of Batman and Terminator Salvation fame). This head sculpt preceded all the other Bale HS that were to come.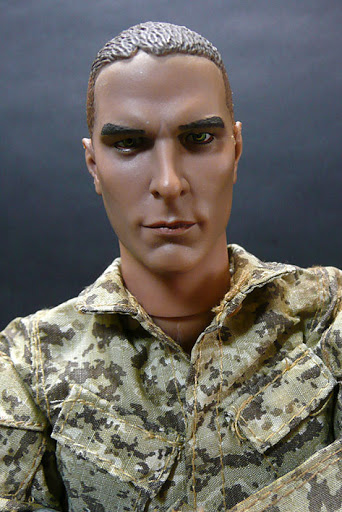 Watch, Water Bottle, Surefire torchlight with holder, whistle, pen and Multi-purpose Bayonet
Closer view of the 1/6 Water Bottle with opening cover and Surefire flashlight with holder.
LITE Headset and Personal Role Radio (PRR) with pouch plus sunglasses
His weapon, the M249 SAW. The M249 Squad Automatic Weapon (SAW) is an American version of the FN Minimi, a light machine gun manufactured by the Belgian company FN Herstal (FN). The M249 is manufactured in the United States and is widely used by the US Armed Forces.
The M249 Para is a compact version of the gun with a shorter barrel and sliding aluminum buttstock, so called because of its intended use by airborne troops. It is much shorter and considerably lighter than the regular M249 at 893 mm (35 in) long and 7.1 kg (16 lb) in weight. It also has the M145, ELCAN Tactical Weapon Sight - these optical sights allow for greater accuracy and rapid engagement of targets.
Fully kitted Hot Toys USMC M249 SAW Gunner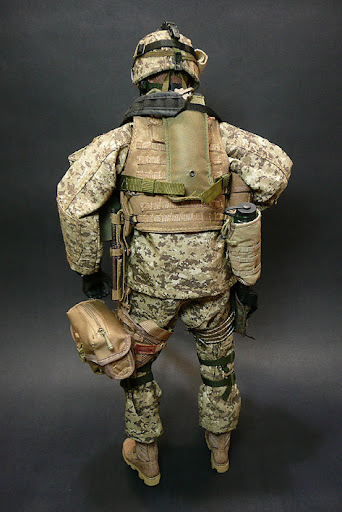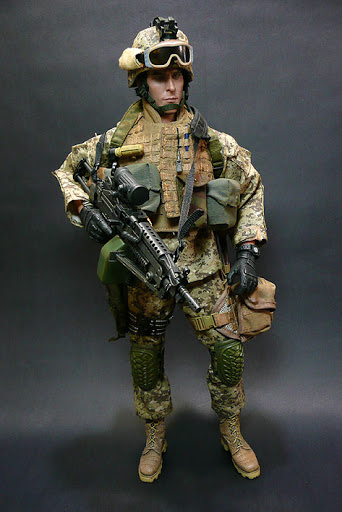 IMHO This has to be one of the nicer 1/6 helmets to be produced as it fits the HS well and isn't a pain to put on. Some 1/6 helmets are too tight and looks small on the HS, and the helmet straps are near impossible to strap on.
This PASGT helmet with digital desert camouflage cloth cover comes with PVS-14 NVG Mount and Goggles with Cover
Check out the ultra-cool S.O.L.A.G. Gloves and Leg Rig Panel with Gasmask / Dump Pouch. Those "Ninja Turtles" kneepads (Motocross/BMX kneepads) really stand out.
Hydration System
And Water Bottle. It can get really thirsty out in the desert sun.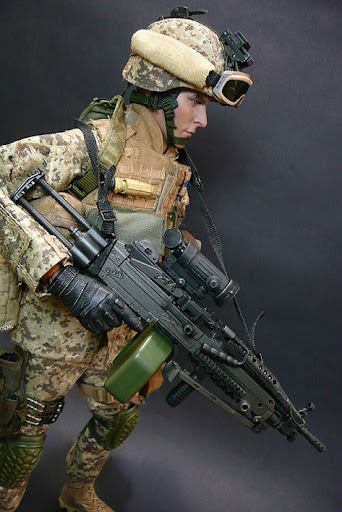 M1911A1 pistol in drop-down Holster