Following his success on the television series "Wanted: Dead or Alive" as bounty hunter Josh Randall which aired from 1958 to 1961, Steve McQueen went on to star in another Western, "The Magnificent Seven (1960)" with Yul Brynner, Robert Vaughn, Charles Bronson and James Coburn. McQueen's next big film, 1963's "The Great Escape", told the true story of a historical mass escape from a World War II POW camp [Stalag Luft III]. Insurance concerns prevented McQueen from performing the film's widely noted motorcycle leap, which was instead done by his friend and fellow cycle enthusiast Bud Ekins who resembled McQueen from a distance.
And here are two 1/6 scale Steve McQueens standing side by side, Toys McCoy Steve McQueen as CAPT Virgil Hilts from 1963's "The Great Escape", released in 1995 (which I'd posted earlier
HERE
) and the most recent Triad Toys "Wanted: Dead or Alive" Josh Randall figure (full review
HERE
).
Close-up pictures of the Steve McQueen as CAPT Virgil Hilts head sculpt by Toys McCoy
Let's play ball! The King of Cool became the Cooler King in "The Great Escape", so called because he spent the most time in the cooler (solitary confinement). He played with his baseball to occupy his time while inside the cooler.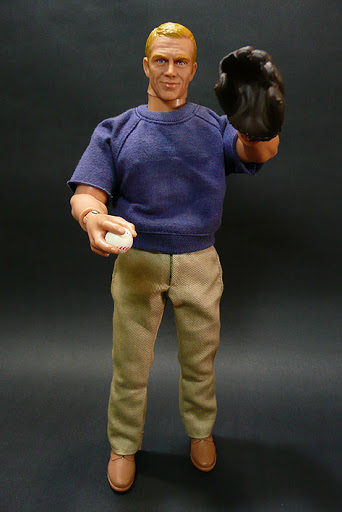 Toys McCoy specially sculpted hands for CAPT Virgil Hilts (Steve McQueen) in order for him to hold his baseball and glove.
1/6 scale Baseball & Glove
Now all I want is a 1/6 scale 12-inch Steve McQueen as Lieutenant Frank Bullitt action figure from the 1968 movie "Bullitt".