Another company producing 1/6 gear for us 1/6 hungry people who can't seem to get enough of the 1/6 fix - everything 1/6 also want but wallet and pocket cannot take it already lah - LOL! Wild Work will be releasing their second Vietnam War BDU (Battle Dress Uniform) and gear set comprising tiger stripe camouflage pattern clothing and boonie hat plus M1956 gear including what looks to be a very well produced 1/6 poncho.
Check out the amazing stitching on this 1/6 poncho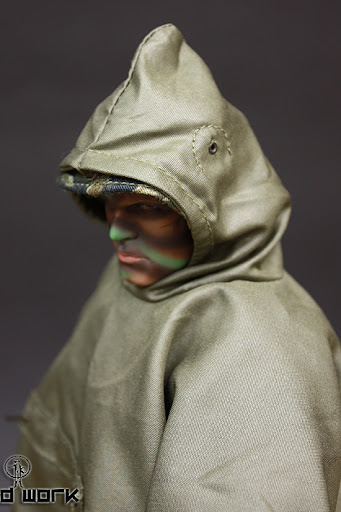 It even has the printed words at the corner like the real thing. We ex-NS and NS guys can certainly identify with this item, especially when we are out in the field and it rains cats and dogs and all we have is this poncho which didn't help very much to keep us dry or warm.
Now we can kitbash a scene from "Platoon" where they set up an ambush and it begins to rain and everybody's wet and miserable and fall asleep while keeping watch. Then the VCs turn up and all hell breaks loose! How many of us can identify with that? I certainly remember those days - these memories tend to stay with us.
IMPORTANT NOTE: This set is only for the uniform and gear - no figure included. They chose to pose the gear with Hot Toys FIRST predator Private Billy Sole figure (for full review of Billy, check out my post
HERE
) is an interesting touch although I doubt they kept their hair so long in the humidity and heat of 'Nam.
The 1/6 scale M1956 webbing with belt and pouches looks to be pretty accurate and of fine quality.
Close-up of the M1956 webbing and gear including 1/6 butt pack
Another XM177E1 Carbine with Para Cord Sling, although this one comes with a customized fore-grip.