And here's Hasbro 1/6 scale 12-inch GI Joe Conrad "Duke" Hauser with Channing Tatum head sculpt (reviewed in a earlier post
HERE
) outfitted with the proper attire for the job at hand. First, three-color Desert Camouflage Uniform (DCU which was introduced in 1992 and replaced the six-color "chocolate-chip camouflage" as worn during the Persian Gulf War of 1991 - see post
HERE
)
Check out the nice and working belt buckle details
Duke with pistol belt, drop down holster for his M9 pistol, knee pad and Soldier Story EOD drop down subload tool
M4 CASV with VLTOR Style Stock, M6 light, ACOG scope, GPS-02 Grip Pod plus bungee cord sling, four M4 30-round magazines, two Hand Grenades, TASC headset and MBITR Radio.
The M4 CASV is an M4 Variant based on the VLTOR Free Float Handguard CASV developed for the US Navy SEALs. This allowed the operator to have multiple configurations for the rifle as he can attach an assortment of components/accessories needed to be effective in combat. Soldier Story's M4 has a working charging handle which when pulled back also pulled the bolt back as well. That plus an opening dust cover.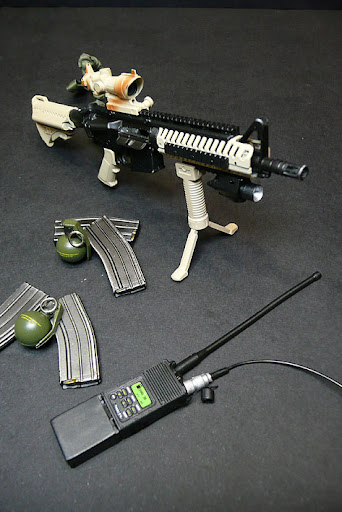 Here's Duke (with cool 1/6 Oakley shades) all decked out in his gear including the tan / coyote CIRAS Body Armor Vest
His trusty sidearm - the M9 pistol, formally Pistol, Semiautomatic, 9mm. The M9 is a 9x19mm Parabellum pistol of the United States military adopted in the 1980s. It is essentially a military specification Beretta 92F, later the 92FS.
Close-up view of the M9 pistol
TASC headset and MBITR Radio in Pouch, Jolly Roger insignia on his Tan / Coyote Admin Pouch and double pistol magazine pouch
More pictures of Soldier Story 1/6 scale M4 CASV
Soldier Story EOD Drop Down Subload Tool, SOG SEAL Pup Knife, Dump Pouch and General Purpose Large Coyote Pouch (also SAW 200-Round Ammo Pouch)
Tan / Coyote Water Bladder (Hydration System) with Tan Utility Pouch attached, another view of the General Purpose Large Coyote Pouch (also SAW 200-Round Ammo Pouch), Drop Down Pistol holster holding his M9 when not in use and four light sticks (red)
"Duke reporting for duty, General!" The tag "BOHICA" is short for "Bend Over - Here It Comes Again" and is one of those famous army talk or navyspeak, along with FUBAR, SNAFU and TARFU.
Missing items from this Soldier Story US Navy 'EOD' (Explosive Ordnance Disposal) boxed set released in 2008 (not shown): Green T- Shirt, Cloth Oakley boots and SOF Gloves. The actual figure had the head sculpt of Michael Schumacher, seven-time World Champion, was test driver for Ferrari and now Formula One driver for Ferrari since Felipe Massa's accident. I used the head sculpt for a German KSK trooper since Schumacher is German himself (see my post
HERE
).
Pictures
of Hasbro 12-inch G.I. Joe 1:6 Conrad "Duke" Hauser in MultiCam