NEW from DID, a 1/6 scale 12-inch Ultimate Edition World War II Luftwaffe Fallschirmjäger (German Air Force Paratrooper) "Dirk Kluge" from Victory to Defeat 1942-1945, AVAILABLE September 2009. Guess who?
He's none other than Daniel Craig, either a British Secret Agent gone rogue or deep undercover. He must have gone back in time to do battle.
The head sculpt really does resemble Daniel Craig - pretty good likeness of the actor who's now famously known as James Bond, MI6 Agent 007 - Licensed to Kill
He's attired in the Luftwaffe tunic, undershirt and Fallschirmjäger jump pants with brown leather jump boots.
The Luftwaffe "Fliegerbluse" (flying blouse) was originally issued to flying personnel only but it became popular throughout the Luftwaffe. Besides the Luftwaffe insignia on his Fliegerbluse, he has also been awarded medals such as the German Cross in Gold award, Luftwaffe Ground Combat badge and parachutist's (Fallschirmjäger) badge, among others. Also comes with Luftwaffe waist belt with steel buckle.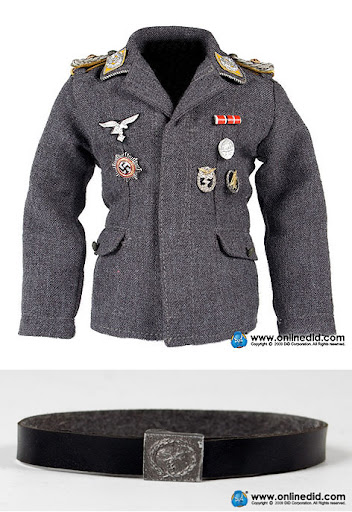 Luftwaffe paratrooper's helmet with chicken wire added for fitting foliage for camouflage and "Splitter" (splinter) pattern camouflage jump smock. The jump smock was worn over the regular uniform and removed by zip upon landing. Snap fasteners on the lower edge turned the skirt of the smock into "legs"
He also comes with Luftwaffe duty gorget with "Feldgendarmerie" (Military Police) on it - optional, I suppose. The gorget and chain led its wearers to be known as 'chained dogs' ("Kettenhunde").
He also has paratrooper's FG42 ammunition bandolier, also in splinter pattern camouflage
Quite standard basic German Infantryman gear includes M1939 equipment suspenders (Y strap) and belt with foldable Entrenching tool in leather carrier, M1931 mess tin and M1931 water bottle with cup attached to the Luftwaffe breadbag (blue color as opposed to the green of the German army). Also included will be a 1/6 scale Luftwaffe flight utility knife (gravity blade knife) and two M1924 stick grenades
Also comes with Luftwaffe life vest as well as parachute harness. Notice that he also wears kapok-filled kneepads in splinter pattern camouflage as well
Here he wears a 1/6 scale life vest under his parachute harness
Have you noticed how he looks like Liam Neeson (he of
Qui-Gon Jinn
/ Star Wars Episode I fame) with helmet on and Daniel Craig with helmet off? The head sculpt is either Daniel Craig-esque or Liam Neeson-ish - interesting. Dragon also did some head sculpts that looked like actor Nicholas Cage with helmet on but not so without it - see my posts
HERE
and
HERE
.
Pistol is the Walter P38 9mm semi-automatic with opening slide and removable magazine plus holster
Main weapon is the Paratrooper rifle M1942 7.92mm, first type or FG42 (Fallschirmjäger Gewehr 42) machine gun, which was clip fed from the left hand side and included a folding bipod and spike bayonet. It was essentially one of the first modern assault rifles produced and designed specifically for para usage.
Also included is the 1/6 scale camouflaged RZ 20 parachute. Carried on his chest over his parachute harness isn't the secondary parachute but his gas mask bag.