Soldier Story's next modern 1/6 12-inch combat figure will be the US Army Future Combat Systems soldier. The packaging for this boxed set idea is based on a recently cancelled program called Future Combat Systems (FCS). A Company (-) was equiped with multicam in 2005 to particpate in the development of this program and some other "experiments" to test incorporating new technologies into the Army (UAVs, robotics, parts of the Land Warrior system). As we scroll down the pictures, we'll do a stripping down to basics so that you can see what he will come with: uniform, equipment and all.
The MultiCam pattern was a result of extensive development and testing by Crye Associates and the US Army. It was designed to work in multiple environments (hence its name) – desert, woodland and urban. Although it came out on top in Army tests, the Army decided to go with new ACU pattern which is basically a variation of the MARPAT MCCUU used by the USMC.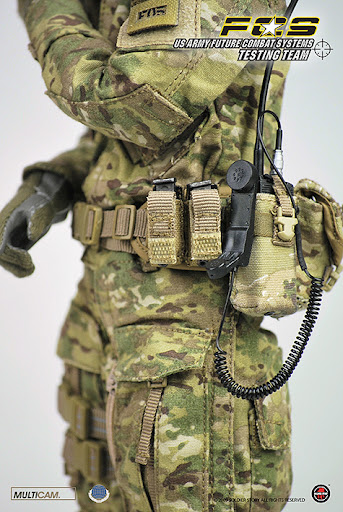 Sidearm is the Beretta M9 with Gemtech Tactical Retention Lanyard (TRL).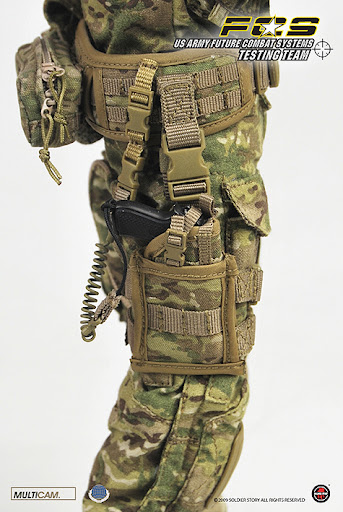 They have reproduced the Crye combat uniform down to the smallest detail including the zipper in the crotch for taking care of "business" in the field without having to drop your equipment and trousers.
The Blast Belt offers a modular equipment belt with the option to include ballistic inserts (armor panels) that offer the soldier even more protection as well as an outstanding first line fighting belt. Again, Soldier Story has managed to capture all the details on this piece.
The Crye Armor Chassis is an example of why Crye is at the top of modern body armor design.By implementing curved plates and a form fitting carrier, the Armor Chassis offers the soldier lighter weight and greater mobility than other designs. Soldier Story has managed to duplicate this complex piece in 1/6 scale.
The future Combat Systems soldier will be armed with a Heckler & Koch HK416 with 14.5 inch barrel which was derived from the M4A1. The HK416 carbine has become the weapon of choice of select elite units. Soldier Story's 1/6 scale HK416 comes with working Selector lever, working Charging handle with bolt that moves as well. The front iron sight flips up and down plus the Receiver halves can also be separated.
Comments have been flying fast and furious about the oversized clothes and undersized HEAD, which has been Soldier Story's bane! The pants are way too baggy and the head is too small. It looks like a 5'5" tall guy wearing XXL clothes.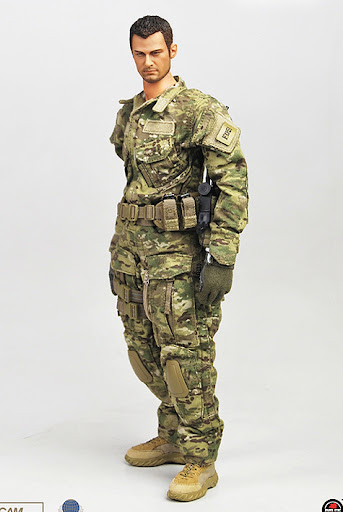 Surprise! Surprise! The head sculpt is supposed to be actor Josh Duhamel who as US Army Captain William Lennox, is leader of the seven-man Joint Special Operations Command team who form part of earth's defence against the Decepticons in the movie "Transformers (2007)". In the sequel, he wears ACUs so this is a step back in time for Soldier Story. Very Hot Toys (VHT) had already released the CBT TynCorp PMC in September 2008, a very nice multicam set with Crye Combat Chassis for kitbashing a 1/6 scale 12-inch Captain William Lennox figure, which I did in a much earlier post
HERE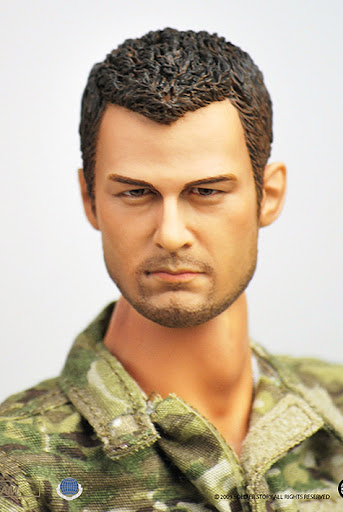 I guess it's better late than never!