Following the release of the movie "G.I. Joe: The Rise of Cobra", Hasbro has released this figure of Channing Tatum as Conrad Hauser / Duke: The lead soldier in the movie. Tatum had played a soldier in "Stop-Loss (2008)", an anti-war film, and originally wanted no part in G.I. Joe, which he felt glorified war. Once he read the script though, he realized the franchise was a fantasy akin to "X-Men", "Mission: Impossible" and "Star Wars" rather than a war film.
The wife
bought me this figure because she's very much into Channing Tatum since he starred in "Step Up" and we've watched "Stop Loss" and intend to catch "Fighting". It's important to support your number ONE fan and the one who supports your obsession / hobby so one can't say "NO" when she gets you a figure - what I do with it later is entirely up to me (see next post).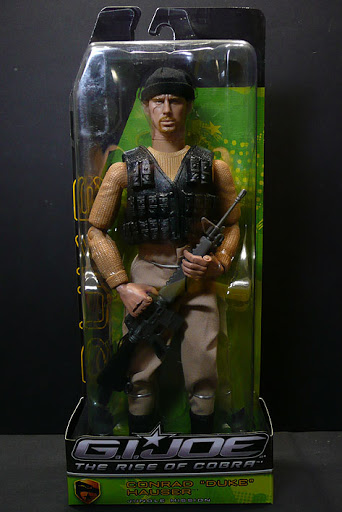 G.I. Joe is now an acronym for
G
lobal
I
ntegrated
J
oint
O
perating
E
ntity and Duke joins the Alpha Team comprising of Snake Eyes (Ray Park), Scarlett (Rachel Nichols), Breaker (Said Taghmaoui), Heavy Duty (Adewale Akinnuoye-Agbaje) and Ripcord (Marlon Wayans). Dennis Quaid is General Hawk, Commanding Officer of the GI Joe unit.
Hasbro has improved in the sculpting area as the head sculpt does bear a striking resemblance to Channing Tatum
But what's with the outfit? Hasbro's way of cheapening the product and keeping it really plain and simple. Duke didn't wear this military outfit in the movie; in fact, on one of the missions, he wore Multicam (see
previous post
).
GI Joe has had the battle scar on his face from the very beginning. It's his manly trademark and meant to distinguish him from the lady-boy Ken, Barbie's playmate. I've nothing against Barbie - after all, she's meant to be a doll BUT what's with gay Ken, who's neither a "he" nor a "she" ;p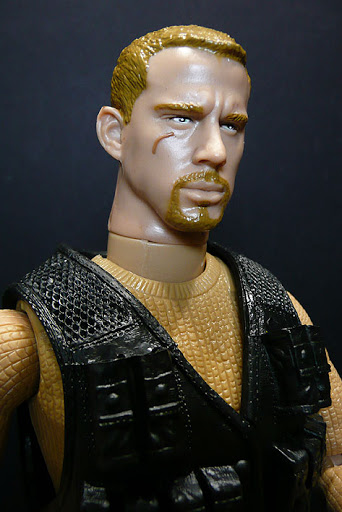 Okay, enough of the "before" pictures. Time to strip him down and gear him up with the right stuff; in other words, "macho" him up (see my next post
HERE
).