Got your attention, didn't I? This is a double post - First, my attempt to kitbash an Indiana Jones in German disguise using the extra Sideshow Indiana Jones head sculpt from their "Raiders of the Lost Ark" release (see post
HERE
) as well as a review of the Dragon "Jürgen", Reichsführer Grenadier (Schütze), Italy 1944. Schütze in German means "shooter" or "rifleman".
For just SGD45, I just had to get this boxed Dragon figure released in 2002 because I've been wanting to customize an Indy disguised as a German soldier and the outfit of this figure is rather unique.
Dragon "Jürgen", Reichsführer Grenadier (Schütze) gear includes: the Karabiner 98 Kurz (often abbreviated Kar98k, K98, or K98k) rifle - a bolt-action rifle adopted as the standard infantry rifle in 1935 by the German Wehrmacht, German WWII K98 clip x 3, WWII Hitler Youth Knife with sheath, German WWII New Pattern K98 pouches x 2, WWII New Pattern Green Breadbag, WWII New Pattern Mess Kit (Sude Type Strap) and WWII Canteen with Non Flocked Cup.
The Hitler Youth Knife (German: Hitler-Jugend-Fahrtenmesser) was a knife sold to and carried by boys of the paramilitary youth organization of the Nazi Party that existed from 1922 to 1945. The Hitler Youth wore knives as part of their uniform, which was very similar to those worn by the Sturmabteilung or SA. Hitler Youth knives typically have a swastika emblem on the obverse grip, and an Reichszeugmeisterei inscription on the blade. In early 1937, the motto "Blut und Ehre!" (Blood and Honor!) began to be etched on early knife blades, but this practice was abolished and later knives were produced with plain blades. [source:
wiki
]
Dragon's 1/6 knife has the "engraving" on it as well.
And here's Indy wearing Tropical Field shirt, trousers and short brown boots. The time-line is obviously wrong as Indy's encounter with the Germans and his subsequent disguise as a German soldier to infiltrate and get close to Belloq and Colonel Dietrich's group as they headed inland with the Ark of the Covenant happened in April of 1936, way before this outfit was even thought of.
The nice details on the 1/6 scale Tropical Field shirt and trousers with the fine stitching and buttons as well as buckles
The pretty accurate head sculpt and likeness of Harrison Ford as Indiana Jones by Sideshow Collectibles. Oh why oh why did Sideshow do such a bad job on their Harrison Ford as Han Solo head sculpt - there's no resemblance of Harrison Ford at all for their Star Wars line.
Here's Indy wearing the German Sahariana Field Tunic over the Tropical Field shirt. The design of this particular piece of uniform is rather unique and different from the usual jackets or tunics I've seen. He also has Cloth Gaiters added to the Short Brown boots.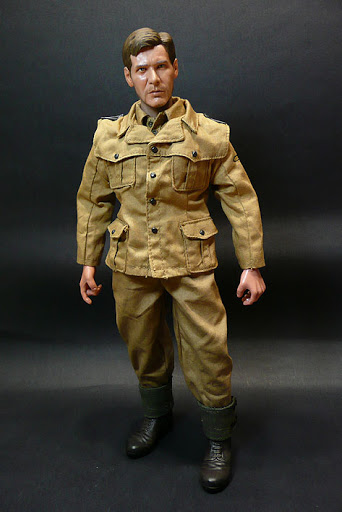 Closer examination of the fine Harrison Ford Indiana Jones head sculpt as well as excellent details and stitching of the Sahariana Field Tunic
Indy wearing M41 SS Tropical Field Cap with SS eagle and skull insignia, and belt with New Pattern K98 ammunition pouches which can be opened, of course.
And here's Indy in the full Dragon "Jürgen", Reichsführer Grenadier (Schütze) getup - simple yet refined, no kitchen sink or loaded to the hilt with a mountain of stuff which he couldn't have carried in keeping up with Belloq and his party.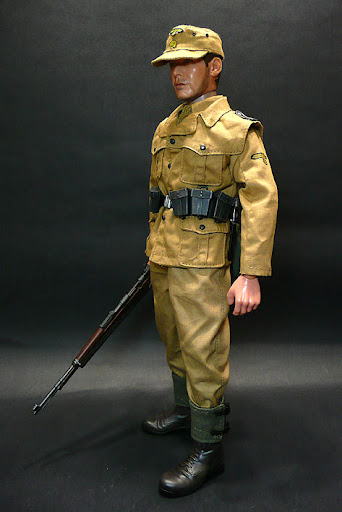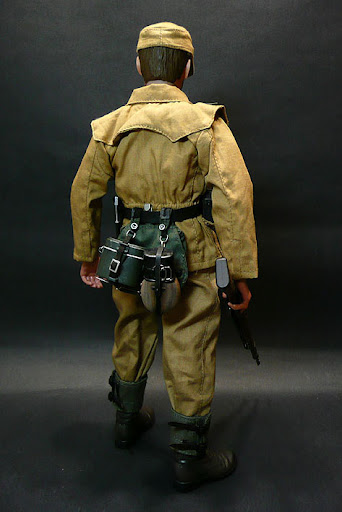 One of those few nice 1/6 caps (Tropical Field hat) that isn't oversized nor have a large bill in the front. In fact, I think Dragon managed to produce and release some fine 1/6 caps. Also notice the very nice and detailed German Eagle insignia worn on his left sleeve.
Close-up of the cloth gaiters and short brown boots, an improvement over the previously complete molded pieces from Dragon. At this point, Dragon was still improving on the quality of their products and collectors like us were enjoying the benefits of superbly crafted 1/6 scale items. Alas, it didn't last :(
The Hitler Youth Knife (German: Hitler-Jugend-Fahrtenmesser) carried proudly on the equipment belt
Now where did I put the 1/6 bazooka / rocket launcher?
Oh yeah! This is what happened to "Jürgen", the original figure that was included with this box - bound and tied up by Indy so that he won't blow the whistle on him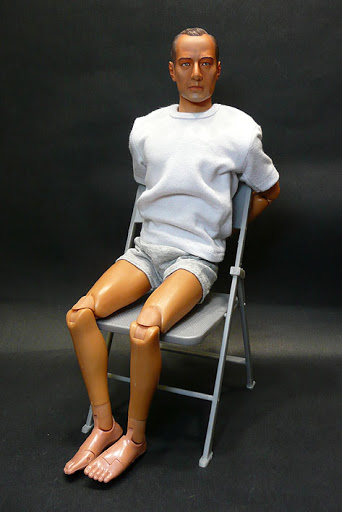 No idea who he's supposed to remind me of? Perhaps John Hamm, the guy who gained worldwide recognition for playing advertising executive Don Draper in AMC's drama series Mad Men, which premiered in July 2007.
I had also used the same Sideshow Collectibles Harrison Ford Indiana Jones head sculpt for a 1/6 Rick Deckard from "Blade Runner" bash (see post
HERE
)