I managed to pick this femme fatale from STGCC2009 (see
previous post
). She's none other than the Baroness from "G.I. Joe: The Rise of Cobra". As this was a San Diego Comic Con 2009 exclusive, I really didn't expect to see it available here at all.
It comes with an outer cardboard packaging that's quite attractive IMHO with the Cobra insignia taking its place front and center. The Cobra is actually on the actual box packaging and the image is die-cut out on the cardboard to show the striking cobra above the words "Baroness" - NICE. San Diego Comic Con 2009 sticker is pasted on the top left-hand corner and "Adult Collectible" printed in CAPs on the top right-hand corner.
Back of the outer box is printed on white as a contrast to the front which is black - a nice touch. Box reads - includes 12" Baroness figure with Trenchcoat, bodysuit, trademark glasses, submachine gun, pulse blasters and recruiting poster from the Cobra Office of Propaganda.
The actual box packaging itself using synthetic leather with reptilian scales (faux snake skin)
The recruitment poster from the Cobra Office of Propaganda - "Fight for COBRA, join the winning side"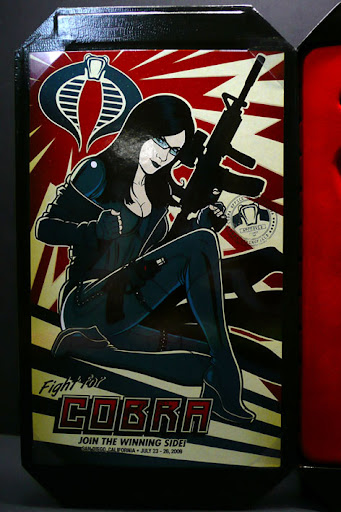 The Baroness (from "G.I. Joe - Rise of Cobra") herself in the tray, ready to jump out and carry out her mission - wreck havoc and destruction in the world!
Her weapons include her twin Pulse Blasters and the M4 assault rifle (Hasbro labeled it as a submachine gun and they dare call this an Adult Collectible). No M4s were used in the movie. Duke and Ripcord had Heckler & Koch HK416s with them when they were ambushed by Cobra.
Description on the box reads: "The Baroness - As dangerous as she is beautiful, Baroness is a master spy for Cobra and a powerful high-ranking figure at M.A.R.S. Industries. She carries out her plans with icy efficiency but her cold, cruel personality hides a painful secret from her past."
Wearing her trenchcoat over her bodysuit and armed with her twin Pulse Blasters. This was the outfit the Baroness wore when they were in Paris, to weaponize and use the warheads with nanotechnology to destroy the Eiffel Tower to serve as a demonstration of the warhead's destructive power.
Sienna Miller played the part of Ana Lewis / Anastacia DeCobray / The Baroness, spy and sister of Cobra Commander (although at the beginning, she didn't know it yet).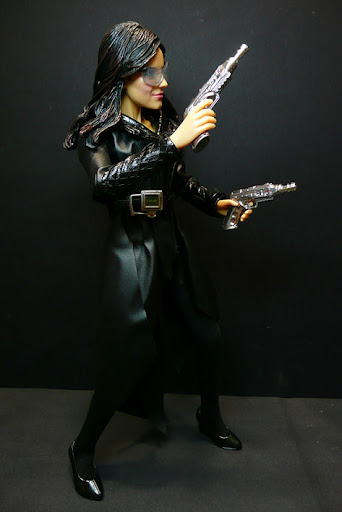 The Baroness (Sienna Miller) with her M4. This was an error on Hasbro's part as the M4 played no part in the movie.
The Baroness (Sienna Miller) did however, use a Heckler & Koch MP7A1 in Paris when she shot at both Duke (Channing Tatum) and Ripcord (Marlon Wayans). This 1/6 scale MP7 comes courtesy of BBI CY Girl Mystere (see pictures
HERE
)
Here she is, armed to the teeth
More pictures of Baroness in the
next post
.
I've also covered Hasbro's GI Joe Conrad "Duke" Hauser
HERE