"GI JOE" the movie opens tomorrow in Singapore theatres and Sideshow has already announced that their next figure in their GI Joe line-up will be the Sideshow Collectibles 1/6 scale GI Joe 12-inch Duke action figure. Duke will come with the following features: Fully articulated Pro male body Version 1.2 with 30+ points of articulation, Duke portrait, Undershirt, Shirt, Pants, Boots, Detailed belt, Go Bag, Utility belt, Handgun pouch, Helmet, Goggles, Water bottle, Dog tags, Medal, Laser Rifle, Rifle, Rifle grenades x 6, Pistol, Pistol magazines x 2, Grenades x 3, Yellow smoke grenade x 1, Red smoke grenade x 1, Three sets of interchangeable hands and 12-inch display base with G.I. Joe logo. The Sideshow Exclusive is the Binoculars. Estimated Release date: 1st Qtr 2010
This Duke is not the movie version Duke but more of an interpretation of what Duke could look like with the modern equipment available. He looks nothing like the actor Channing Tatum who plays him in the movie nor is he equipped with the state-of-the-art weapons Channing as Duke is given. In fact the head sculpt reminds me more of Kurt Russell as Sgt Todd, a soldier trained from birth in the science fiction movie "Soldier (1998)".
Both weapons Duke is armed with seems pretty small in terms of size (not to scale) and seems to lack the firepower one would need to take down an organization like Cobra. They look like a kid's toy gun when compared with all the other 1/6 weapons in the market. The helmet is also a tad small for his head and doesn't sit nicely to offer protection, his pants look too baggy and the knee pads look rather out of place in a weird way.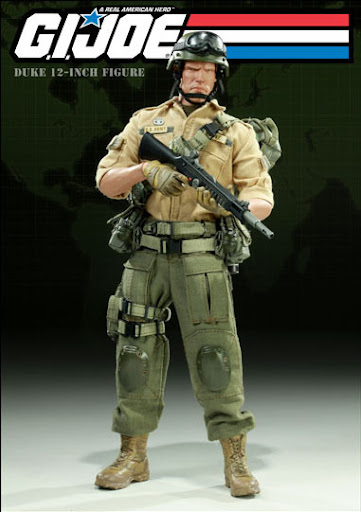 With all the latest digital camouflage and multicam uniforms, Sideshow chose to put Duke back in the past with basic OD green and desert tan colors. At least in "Transformers: Revenge of the Fallen", the members of NEST wore updated uniforms which even reflected the type of arms the soldier came from: be it Army, Air Force or Marines. Even the coalition forces wore camouflaged uniforms of their own country.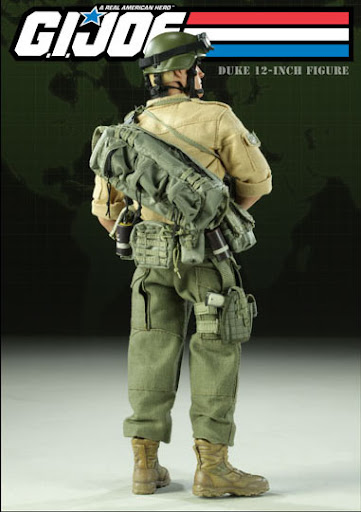 He even has a pistol with an ivory grip! Who does he think he is?
General Patton
?
Some shots of Sideshow Collectibles GI Joe Duke at the recent SDCC with the binoculars which is a Sideshow exclusive.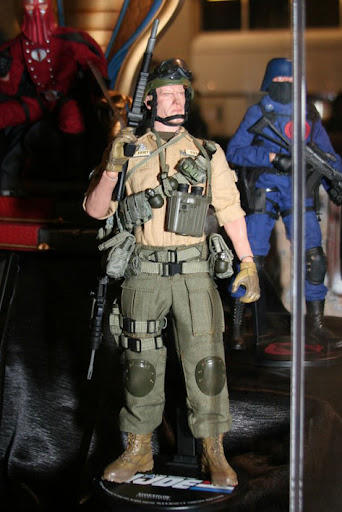 To order your Duke, click on the banner below