Another 1/6 scale 12-inch Rick Deckard Blade Runner action figure from the science fiction film "Blade Runner (1982)" by Ridley Scott! Besides Toy Syndicate's versions (I know of at least two), there had been other manufacturers jumping on the bandwagon but coming up short. Until now.
This release by Brother Production is quite good, especially at the price it was sold. It features a "real like head sculpt" as well as an alternate "damaged" version, 1/6 scale articulated body, his movie-accurate shirt and tie with scaled pattern, trousers or pants (depending on where you are from), trench coat (with hidden wire at the edges for more poseability), leather laced shoes, extra hands for creating the "broken fingers" look, LAPD 2019 blaster, Police ID and badge, origami unicorn (made of resin).
The figure came in a nondescript blue box so we'll just go straight to the 1/6 figure itself. Here's Brother Production "Blade Hunter" (obviously they don't have the license so they had to come up with another moniker; much better than calling the Iron Monger a "Huge Iron" - see post
HERE
) basic figure wearing trademark shirt with matching tie, belt with holster, pants and shoes.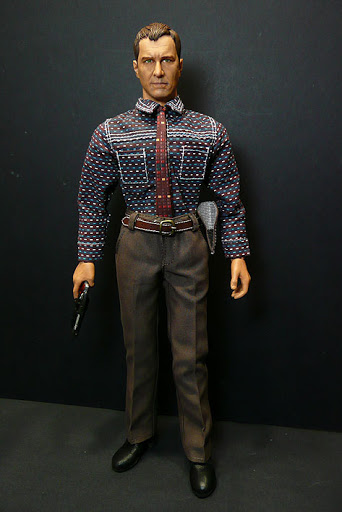 From certain angles, you can see the resemblance to Harrison Ford who played Rick Deckard. Again, to avoid getting sued for copyright infringement, they opted to have the head sculpt closely resemble the actor but not totally accurate. Works for me.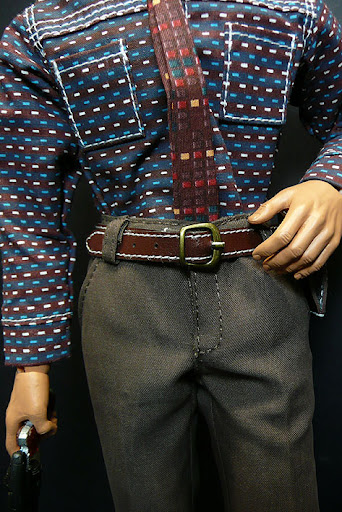 This is the other head sculpt included which is the "damaged" head. Towards the end of the movie, Rick Deckard gets beaten up pretty bad by the renegade replicants he had been chasing with the intent of "retiring" them as was his job as a "blade runner". Also included is an extra pair of hands, with right hand "damaged". Roy Batty (Rutger Hauer), the leader of the replicants, broke Deckard's two right fingers in retaliation for killing Zhora and Pris.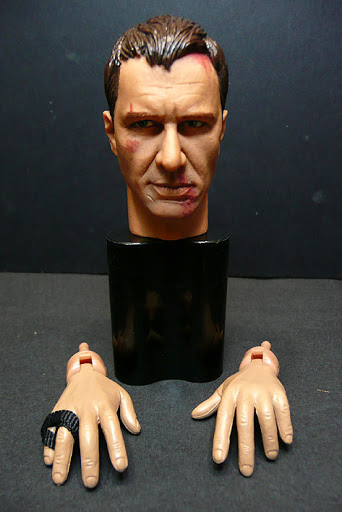 Other accessories include 1/6 scale LAPD 2019 blaster, Police ID and badge, origami unicorn (not made of paper but resin) and wrist watch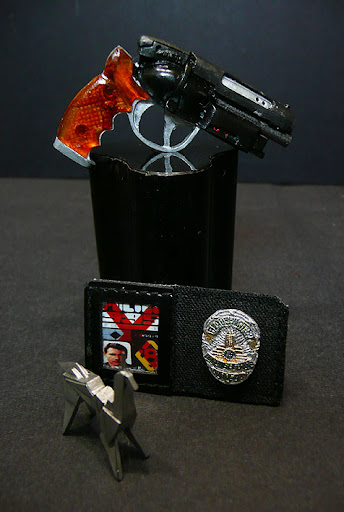 The badge has details and the words engraved "BLADEHUNTER, LOS ANGELES POLICE", Badge no. 26354
A view of his belt and holster
Another view of the head sculpt of Harrison Ford as Rick Deckard, blade runner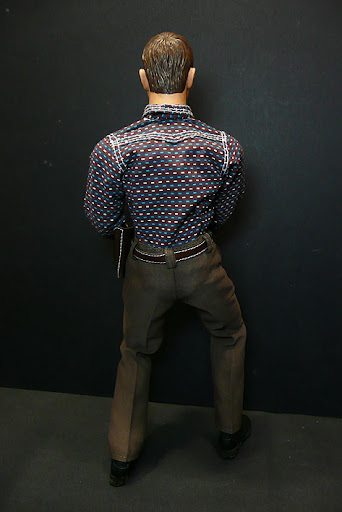 A close-up view of the Brother Production 1/6 scale LAPD 2019 Blaster, much better than Toy Syndicate's version but the twin triggers are not obvious.
Rick Deckard Blade Runner with his jacket. Unlike Toy Syndicate's version which is worn open, this jacket is meant to be worn closed as there are snap buttons for fastening it.
And finally, Brother Production Blade Hunter puts on his trench coat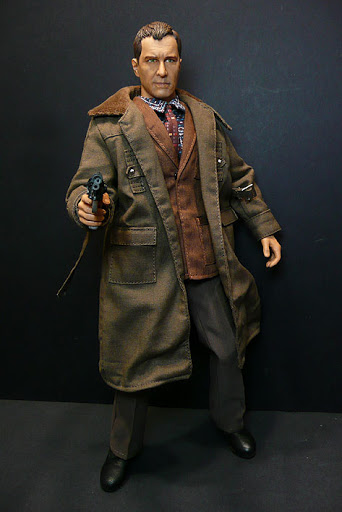 Curiously, he wears an analog wrist watch in Los Angeles, 2019
There you have it - a fine release by Brother Production!
UPDATE June 29, 2010: Review of
Brother Production 1/6 scale 12-inch Revenge of the Replicant Roy Batty figure HERE
Other Blade Runners I have posted -
September 2, 2007 - Blade Runner (1982) with Kubrick Spinner
HERE

Toy Syndicate Android Hunter Version 1.0 - link
HERE
Toy Syndicate Android Hunter version 2.0 - pictures
HERE
Toy Syndicate Android Hunter with Sideshow Collectibles Harrison Ford as Indiana Jones head sculpt
HERE
Roy Batty, a "combat model" replicant and leader of the renegade Nexus-6 replicants posted
HERE